Added Benefits for NCGC Local Qualifier Host Schools
Host package now includes Media Coverage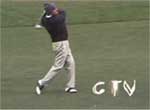 The growth and success of the National Collegiate Golf Championship has lead to an increase in media coverage. Collegiate Golf Alliance is please to announce partnerships with print and video / internet media sponsors.
Sports Illustrated on Campus- A publication solely dedicated to college athletics and the sports interests of college students has teamed with CGA and will include coverage of the NCGC. The publication will be distributed at more than 150 major universities throughout the school year, generating a circulation of one million readers between the ages of 18 and 24. The 28-page publication is distributed at no cost to students 13 times each semester (26 times per school year), primarily every Thursday of each school week.
CTV - Showcases the activities of the campus through video on large flat screen TV's in Recreation Centers and Student Activities buildings. CTV also presents the action clips via the internet. CGA is pleased to announce a media partnership with CTV's Live on Campus. As you may recall, CTV filmed and produced a short video for the national tournament last year, which can be seen at www.iwatchctv.com (select Collegiate Golf Alliance from the down list of campuses). To build on the success of this partnership and increase exposure for all of our local qualifiers and golf expos, we have developed a program which will allow each of you to film highlights from your events, with cameras provided by CTV, and then have you mail the finished footage to them to be professionally edited and produced. This footage can then freely viewed on the CTV site for everyone to see. This program will be done at no charge to any of the participating local qualifiers.
CTV will be circulating 4-5 cameras amongst the various participants on a first come, first served basis. Once you have finished filming your LQ/Golf Expo, you can expect to see the highlights on the web within two weeks. Those schools involved in the CTV program will be able to promote their events ahead of time to increase participation, and the finished footage will appear in the regular weekly broadcasts.
As a brief background, CTV is program focused on filming highlights each week on campus. They provide the equipment (cameras, playback units), along with Plasma screens to display the highlights, and hire/train/pay students to provide this coverage. The footage is completely personalized to each campus and updated weekly on both the plasma screens and the web. The program was started nearly 10 years ago by their founder when he was a student, and they are working with schools on both coasts, including campuses like USC, Cal, Northeastern, URI, GW, and Rutgers, to name a few. Any local qualifiers interested in a having year round coverage of their rec sports activities at no cost can contact Uday Gupta at 800-492-8242 or uday@iwatchctv.com . You can also visit their web site, www.iwatchctv.com to view highlights from several participating schools. They are currently signing up schools for Spring and Fall 2006.