NCGC Prize Packages
The CGA will provide the following prize packages for every official Local Qualifying event participating in 2007 regardless of event size. This prize package may grow as more sponsor commitments are confirmed. Prize Packages (.ppt)
Local Qualifying Events ($500 Value)
Winning team advances to National Championship in Las Vegas
Top 10% of LQ earns an invitation to National Championship
Free lob wedge for every player
Two dozen AlmostGOLF balls
Free range ball coupons for every player*
One year Subscription to Golf World or Golf Digest
1 Round Trip Ticket on Southwest Airlines for every 40 participants
* Range ball prize for events at CGA Partner Courses only.
All prizes provided by CGA or our sponsoring partners can be used at the Tournament Director's discretion as awards for winning teams, contest holes, raffles, etc.

The requirements for use of the prize packages are that (1) all prizes must be used for the official Local Qualifying event, (2) the grand prize of invitation to the National Championship is given to the overall winning team or the winning team of the student division.

Las Vegas package includes:
(Note: Schools and / or teams must pay the entry fee for this package.)
1 tournament round at The Badlands Golf Club
2 nights hotel stay (shared room)
Pre-tournament pairings party
50% discount on practice rounds
Red Bull Final 5 Contest
On course contests and prizes
Deluxe player tee prize package
NCGC Tournament golf shirt
Transportation to/from hotel and golf course
Awards dinner
10,000 Hole in one prize
$25,000 putt off challenge
Awards for all division winners
On course contests and awards
** CGA reserves the right to change prize packages
Additional Prizes Available
In addition to the event prizes listed above, all events will be eligible to receive additional prizes.
2 free SWA roundtrip tickets for all events held at a CGA Partner course with more than 40 participants
1 free SWA roundtrip tickets for all events with 40 or more players
2 free SWA roundtrip tickets for all events with 80 or more players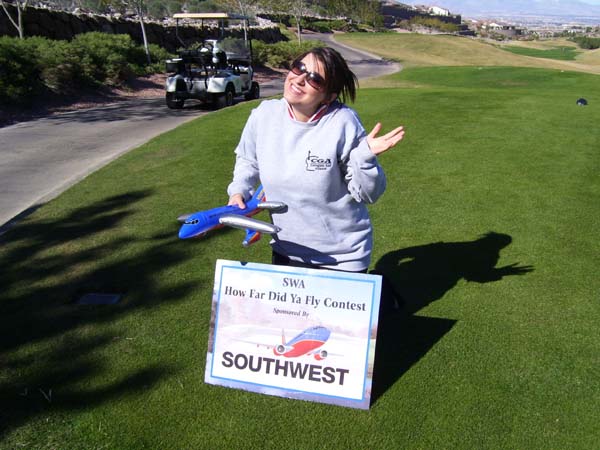 Tournament Director Bonus Available and 1 National Entry Package for one person including full entry package
The CGA will award 1 free SWA roundtrip ticket to Las Vegas for the National Championship to the 2 local tournament directors with the largest events that use CGA's online registration tool. Full details in Program Handbook appendix 5.2.
Optional Discounts Available
All events will have the option to take advantage of CGA's pre-negotiated discounts.
Hole-in-one contest insurance, signs, and banners from American Hole In One
Premium apparel from Cutter & Buck
Value-priced apparel and merchandise from Gorilla Marketing