Red Bull Final 5 Winners

Score
Name

-4

Tyson Petrovich / Paul Culley (USC)

-4

Brad Rhodus / John McCarthy (WVU)

-4

Mac Horvath / Dave Fisher (CMU)

-4

George Botts / Brian Lamp(U Wisconsin Madison)

-3

Adam Tiedt / Nick Miller (U Iowa)

-3

Jeff Greyber / Adam Spector (U Miami)

-1

Kyle Rose / Craig Rose ( URI)

17

Matt Skibinski / Brad Arthur (SIUE)

17

Scott Gillette / Cory Johnson (CSU)

17

Gianni Sacilotto / Brian Sandoval (Cal Poly)

19

Mike Eason / Jed Zercher (CSUSB)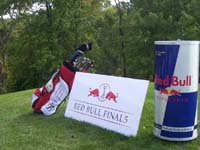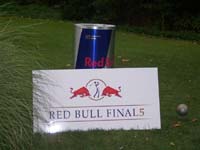 The Red Bull Final 5 is a competition which rewards the team with the best score over the final five holes. Drink a can of Red Bull on the 12th or 13th hole and help yourself focus and perform on the crucial final five holes.
As part of Red Bull's involvement with the NCGC, selected schools will have the Red Bull Final 5 competition incorporated into their Local Qualifying Event. Winners of the Red Bull Final 5 will earn complementary entry into the National Championship in Las Vegas.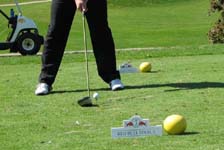 Why the Red Bull Final 5?
How many times have you had a good round going, only to make mistakes over the last 5 holes? The final 5 holes in a round of golf are statistically where golfers of all levels tend to make mistakes due to physical and mental fatigue. Red Bull, tried, tested and used by tour players worldwide, is proven to benefit golfers. It has been specially developed for periods of increased mental and physical exertion. It increases endurance, concentration and reaction speed.

How to Qualify Your School for the Red Bull Final 5
In the 2006 NCGC program, 6-10 schools will be selected to add the Red Bull Final 5 to their event. The schools will be selected jointly by CGA and Red Bull from all those who indicated interest in the competition on their NCGC Application. Selection preference will be given to schools that meet the following criteria:
Events with over 30 participants

Events committing to send at least 1 team to the Championship

Events that host an on-campus expo
Prize Package for Red Bull Final 5 Winners
The winning team of the Red Bull Final 5 at the selected Local Qualifying Events will receive a complete entry package into the Championships in Las Vegas.
If you have any questions about the Red Bull Final 5, please contact greglong@cgagolflinks.com.